Our latest update on service arrangements
Our number one priority is the health and wellbeing of everyone in the community.
There is no doubt that 2020 was a challenging year, particularly for those of us in Victoria. We thank you for trusting us to continue providing quality services during these difficult times.
Before the end of 2020, our teams were focusing on contacting as many of our Clients as we could before the end of the year – be that face-to-face, via telepractice or a quick call to see how you are managing while you wait for services.
As we head into the new year, we are pleased to report that most of our response times are almost back to normal with the exception of our Occupational Therapy, Assistive Technology and our Orthoptist services. If you are expecting a call and are yet to hear from us, then please contact our Customer Service Team on 1800 804 805 so we can review your individual circumstances.
Our future Guide Dogs are still in training, graduating just a little slower than pre-pandemic times, but getting there all the same! For those using, or about to use our Guide Dog Services we will be releasing more information about our 2021 programs including residential and/or domiciliary training programs soon. We look forward to catching up with more of you then!
COVID-19 Vaccine Support Program
COVID-19 Vaccine Support Program
At Guide Dogs Victoria, the health and wellbeing of our Clients, staff, volunteers, donors and dogs is our number one priority. Since the beginning of the COVID-19 crisis, we have been keeping ourselves updated and following Government advice daily in order to keep the Guide Dogs Victoria community safe and well.
We have introduced a COVID-19 Vaccine Support Program to assist Clients who wish to receive the COVID-19 vaccination to do so. 
Support for using QR codes to check-in
Support for using QR codes to check-in
In an effort to minimise and better track the community transmission of COVID-19 in Victoria, it has become mandatory for businesses and premises to track people entering a venue by recording their name and contact details, often by asking customers to 'check-in' by scanning a QR code.
Tips for COVID-Safe Check In – PDF
Tips for COVID-Safe Check In – Word Document
In some cases it can be challenging for people with low vision or blindness to locate and use the QR code. In these instances, the venue is required to provide an alternative method to check-in, such as completing a written form. Service providers are not required to enter another person's details using their smartphone for check-in process.
If you have any questions about using QR codes for check-in, contact Guide Dogs Victoria on 1800 804 805 or head to the National Disability Services website to learn more or speak with a Disability Sector Consultant.
Services and supports you can access
Services and supports you can access.
Although some of our service delivery methods have changed due to COVID-19, you can still access a wide range of services to support your experience with low vision or blindness.
We're available to assist you—or your family members—to:
Live more independently
Achieve your unique goals
Improve learning and skill development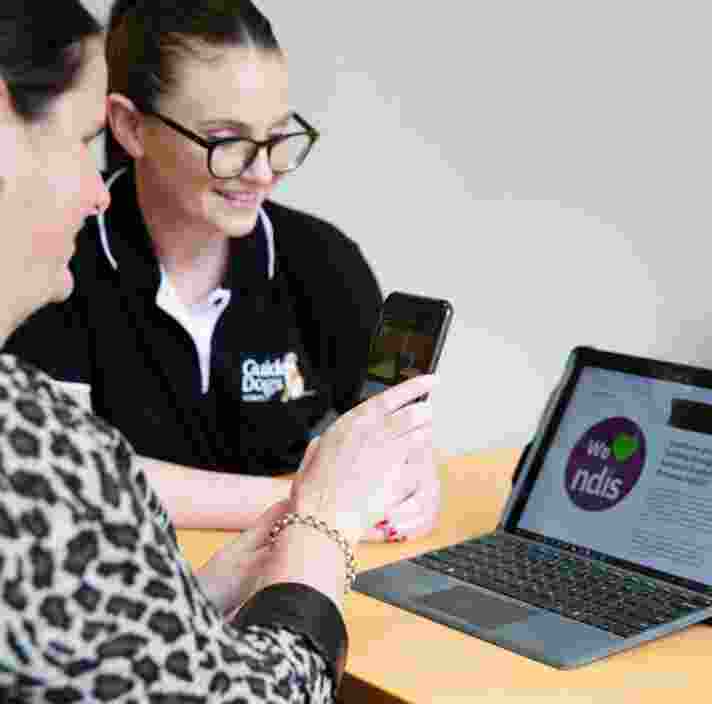 About our services
Our specific services include
Orthoptists are university-trained health professionals with experience in providing education, training, and support for people with low vision or blindness. Orthoptists can support you to understand your level of functional vision, then make recommendations for ongoing care and the best visual aids for you.
Orientation and Mobility Services support you to move safely and confidently around your home and community. This includes learning to navigate different environments, using mobility aids—like a long cane or a Guide Dog—and making adjustments within your home. Services are available for Children's Mobility Services (from birth to age 18), Adult Mobility Services, and Guide Dog Mobility Services.
If you've experienced a change or loss of vision after a brain injury, there are many supports available. These services can include education and training to support you in navigating your home or community, or peer supports to share lived experience with others in a similar circumstance.
These services can support you to achieve a range of everyday goals; things like preparing meals, personal care, and other household responsibilities. Occupational Therapists can support you with the knowledge, skills and equipment required to improve your goals and achieve greater independence.
Sharing time and talking about your experience of low vision and blindness with others in a similar situation can be very beneficial. Peer support services can assist you to connect with other people via telephone, group discussions, and other social connections. Please note that in-person sessions may be temporarily suspended due to COVID-19 restrictions.
These services can support you to access printed text, digital text, images, videos, audio and tactile information.
If you have low vision, Orthoptists can support you by:
Assessing and understanding your level of functional vision

Identifying the best techniques to assist you in accessing information, including magnification, improved lighting, and other adjustments you can make at home.
If you have very low vision or blindness, Assistive Technology specialists can support you by:
Using technology solutions that convert visual information, so you can access it using your hearing or touch.

Personalised training so that you can apply the technology in achieving your unique goals.
About our COVID-19 safety plan
Guide Dogs Victoria has developed a comprehensive COVID-19 Safe Operating Plan.
In line with Government regulations and leading health advice, Guide Dogs Victoria has developed a comprehensive COVID-19 Safe Operating Plan. The Plan is designed to protect our staff, our community, family and friends, and you, while ensuring we continue to deliver the highest quality service and supports.
Key steps include:
Increasing the number of telepractice services available (including service and support via phone and video calls) to minimise in-person contact, and

Providing comprehensive training in COVID-19 safety practices for any staff providing services in-person.
We continue to monitor all State and Federal health advice to ensure we can respond to any developments that may affect our service delivery arrangements.
How to get support
How to get support
You can access our services for the first time or enquire on behalf of a friend, family member, patient, or loved one. Simply fill out your details and a friendly team member will be in contact.
Sorry, this form is not yet available.