Engagement opportunities
There are many different ways we engage with organisations and corporate supporters.
Opportunities include:
Partnership
Sponsorship
Philanthropic Support
Workplace Giving
Hosting a Collection Dog
Corporate Challenge
Corporate Volunteering
In 2020, Guide Dogs Australia was honoured to have been awarded Australia's 'Most Trusted Charity Brand for the seventh time through the Reader's Digest annual consumer survey.
By partnering with Guide Dogs Victoria, your business will align with the high standards of our organisation and benefit from strong awareness of our reputation.
To partner with one of the most iconic brands in Australia, please contact our Fundraising Team on corporate@guidedogsvictoria.com.au

To partner with Guide Dogs across two or more states, please contact the national corporate partnership team at Guide Dogs Australia, at: partnerships@guidedogs.com.au
About our corporate engagement workshops
Trust your instincts and take on a fundraising challenge like never before.
Are you ready to challenge your team to a new experience and in return, help provide life-changing services to people with low vision or blindness?
In the quietness that darkness allows, you'll be given the opportunity to discover your ability to rely completely on the senses of hearing, smell, touch and taste.
You'll also get to listen to a client as they share their personal story with you. Hear from our experts in the fields of Orientation and Mobility, Guide Dog and Vision Services, Children's Mobility Services and Acquired Brain Injury Services.
Trust your instincts and take on a fundraising challenge like never before and help us raise funds to provide services to those who need it the most.
Bookings are essential!  Contact Fiona Macmillan via corporate@guidedogsvictoria.com.au or 1800 804 805 for more information about the Corporate Fundraising Challenge or to make a booking for your team.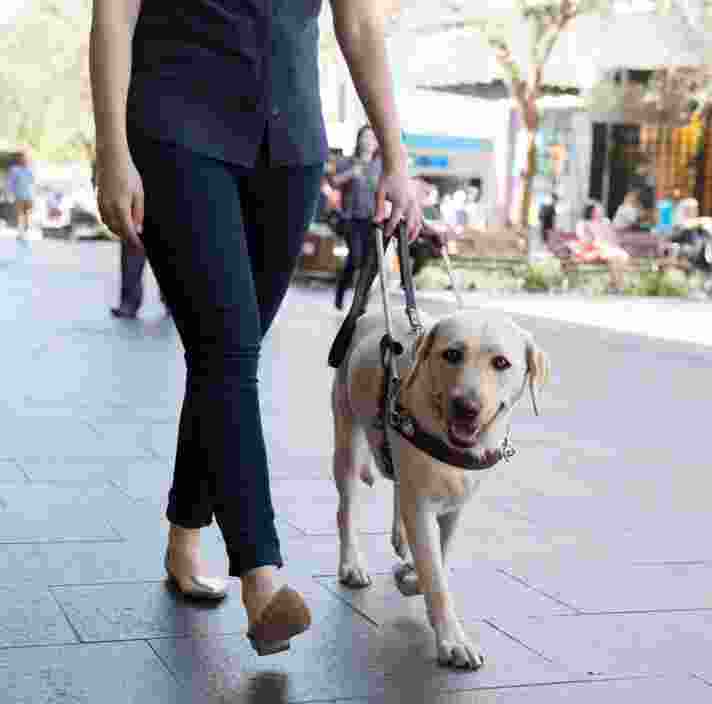 Our partners
Thanks to our generous partners!
We are able to provide services for those with low vision or blindness thanks to generous contributions of our partners.
We would like to thank our major Corporate Partners, Trusts & Foundations, Community Partners and Collection Dog Hosts for the difference they make in the community.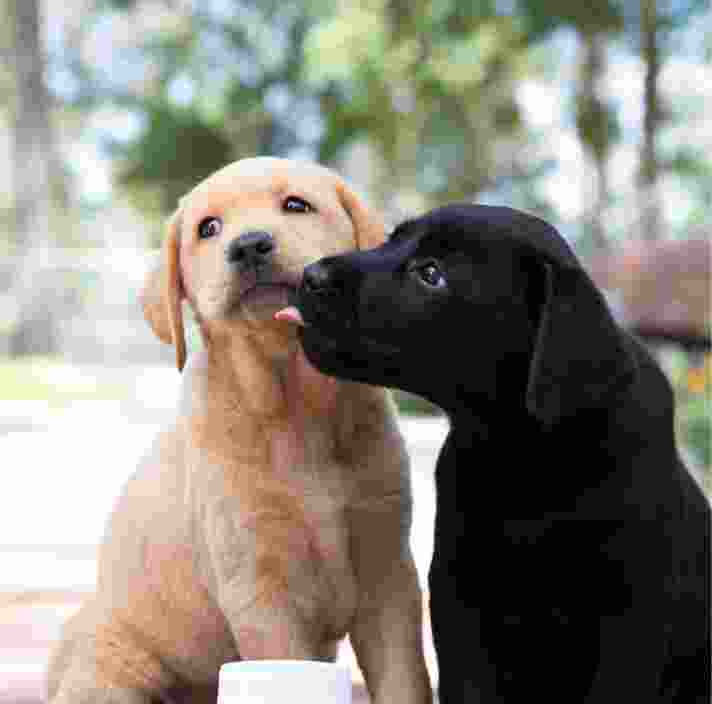 Our National Partners
Guide Dogs Australia National Partners
ADVANCE™ is one of Guide Dogs Australia's longest-standing partners.
ADVANCE™ supports the health of our growing Guide Dogs through the donation of super premium dog food for our full colony of dogs.
ADVANCE™ gives our puppies the best start to life with a range that combines world-leading research with quality ingredients, proudly manufactured here in Australia.
We feed our dogs ADVANCE™ from Puppy Raising and training, through to graduation. We know our dogs are getting the best possible food to maintain their health and energy so they are ready to take on the exciting adventures that every day brings.
Boehringer Ingelheim Animal Health Australia has a long-standing partnership with Guide Dogs Australia that continues to support and enhance the health, well-being and protection of Guide Dogs.
Boehringer Ingelheim Animal Health Australia provides complete preventative health support for our puppies and adult dogs, with the on-going provision of NexGard SPECTRA® and canine vaccines.
Whether our dogs are in training, working, or enjoying some downtime, it is essential that they are protected from parasites and infectious diseases.
Our partnership with Boehringer Ingelheim Animal Health Australia means that our dogs will be protected whether they are going into a Guide Dogs Centre for training, to the park with a Client, or on a bushwalk with a Puppy Raiser or Handler.
Coles has proudly been involved with Guide Dogs Australia since the late 1930s when Lady Margaret Coles became interested in establishing a Guide Dogs Service in Australia.
Lady Coles was an animal lover who dedicated her life to helping improve the bond between humans and animals.
Early on, she recognised the important role dogs play in transforming the lives of people with low vision or blindness and would often paint walls at Guide Dogs headquarters, sell homemade jam for a donation or even wash some of the pups who had been rolling in the mud!
Since then, the partnership between Coles and Guide Dogs Australia has expanded to include hosting hundreds of our iconic Collection Dogs, selling reusable community bags to raise funds, and customer accessibility initiatives.
We are incredibly proud of this long-standing relationship and the impact it has had over many decades.
Since 2005, Expr3ss! Predictive Hiring Technology has brought much-needed relief to HR teams and recruiters through its unique and proven predictive hiring technology. Relief from the burden of evaluating, assessing and appraising candidates to shortlist. Quality in new hires from all walks of life is at the heart of Expr3ss! Predictive Hiring Technology and quality drives our new partnership with Guide Dogs Australia, including sponsorship of a Guide Dogs puppy.
Greenstone Financial Services specialises in the design, marketing, distribution, and administration of insurance offering a range of products in the life, funeral, income protection, car, home, travel and pet insurance categories.
One of our valued National Partners since 2018, Greenstone Financial Services supports Guide Dogs Australia through the provision of Guide Dogs Pet Insurance, which offers insurance for dogs, cats, and Registered Guide Dogs to help cover unexpected veterinary costs.
By choosing Guide Dogs Pet Insurance, you are also choosing to make a difference in someone's life. This is because a portion of first year policy premiums goes to support Guide Dogs Australia provide vital services for Australians living with low vision or blindness.
Learn more about insuring your cat or dog with Guide Dogs Pet Insurance.
IDEXX has supported Guide Dogs Australia for more than 10 years through the complimentary provision of pathology tests for our national colony of dogs.
IDEXX is a global leader in diagnostic solutions for animals and focuses on providing products and services that improve animal health and disease diagnosis.
This diagnostic expertise and support mean we can make sure our dogs are in the best of health at all times. These services also play a vital role in our breeding program, helping us create the next generation of life-changing Guide Dogs.
KONG Company has partnered with Guide Dogs since 2018 to make sure our dogs' development is supported through quality enrichment and play activities.
KONG Company has been developing, designing, and producing dog and cat toys for over 40 years. They are known to be the best of the best in quality, originality, variety, safety, and value.
By providing their iconic toys and enrichment advice, KONG Company is supporting the health, happiness, and training of our dogs so they can reach their full potential.
Penguin Random House Australia publishes the 'Little Paws' series about growing Guide Dogs and the 'Mr Walker' series about a real-life Guide Dog Ambassador. Every book sold helps support Guide Dogs Australia.
PETstock Assist is the charity arm of the 100% Australian, family-owned and operated PETstock retail business.
PETstock Assist has partnered with Guide Dogs since 2014 as part of their commitment to making a long-term positive difference in the lives of pets and families in need.
With the support of PETstock stores, team members, and brand partners including ADVANCE™, Boehringer Ingelheim Animal Health (NexGard®, HeartGard30 Plus®, ParaGard®), PAW by Blackmores®, and KONG Company, PETstock Assist has donated more than $200,000 to Guide Dogs Australia through fundraising, workplace giving, and cause-related marketing campaigns.
Ritchies Supermarkets & Liquor Stores have been a part of Australian communities for more than 150 years and support Guide Dogs by hosting our beloved collection dogs in many of their stores across the country.
Ugly Fish Eyewear is a leading Australian eyewear label specialising in innovative and stylish sunglasses, safety glasses, and optical frames. Ugly Fish Eyewear donates $1 to Guide Dogs Australia for every transaction made via their online store that includes sunglasses and/or optical frames.
For decades Woolworths supermarkets have hosted our iconic collection dogs to facilitate customer donations to Guide Dogs. Silently, these dogs have collected generous donations from the community and have been a highlight of shopping trips for children.
National workplace giving partners
Guide Dogs Australia workplace giving partners
AMP Foundation

BHP

Deloitte Foundation

Lion

PETstock Assist

Viva Energy Australia

Westpac Group
Our Victorian Partners
Guide Dogs Victoria Partners
Guide Dogs have been one of the beneficiaries of the Ritchies Community Benefit (CB) Program for many years now in Victoria, NSW and QLD. We have received over $364,000 from Ritchies through the Community Benefit Program and from this total our Victorian services have received $286,000 year to date.
The money is generated from customers shopping at Ritchies stores who nominate Guide Dogs as their beneficiary. Ritchies donate .5% of the customer's shop back into the community. Ritchies have donated in excess of 44.6 million dollars back into the community to local clubs, schools and charities over the last 21 years.
Ritchies have been involved in the Puppy Sponsorship program at Guide Dogs Victoria since 2013, supporting Guide Dog puppies on their journey to becoming fully trained Guide Dogs.
Public Transport Victoria (PTV) is a statutory authority that manages Victoria's train, tram and bus services. PTV is a single contact point for customers wanting information on public transport services, fares, tickets and initiatives. PTV aims to improve public transport in Victoria by ensuring better coordination between modes, facilitating expansions to the network, auditing public transport assets and promoting public transport.
Yarra Trams works closely with Guide Dogs Victoria to improve accessibility for the vision impaired on Melbourne's tram network. This includes consulting on new projects, reviewing existing infrastructure, and testing services, like new features on our tramTRACKER app.
Last year, Yarra Trams and PTV designed and wrapped a tram for International White Cane Day to help raise awareness of how the white cane can aid mobility and independence for a person with vision loss. This tram travelled on line 109 for 6 weeks and helped spread the Guide Dogs Victoria message to thousands of people across Melbourne.
Today, we have more than 35,000 people serving 10 million customers at more than 800 locations in Australia, New Zealand and around the world. We look for innovative ways to deliver social value alongside service for customers and returns for our shareholders.
Through our investments in the community we aim to aim to build social cohesion, financial inclusion, more connected communities and a stronger economy that not only benefits our customers, but others in the community as well.
NAB first supported Guide Dogs Victoria in 2014 with a major grant for the puppy raising program. More recently, through our Community Grants Program, NAB has supported the development of a sophisticated database which will record the genetic values of the Guide Dogs breeding program. This investment will revolutionise the breeding outcomes in Victoria and nationally.  Both of these investments will help with the long term supply of Guide Dogs for the growing community of people with vision loss in Victoria.
NAB continue to help Guide Dogs with grass root fundraising; workplace giving, making our venues available for instructors to use in the Guide Dog training program, and through the provision of volunteers to help at fundraising events.
Our aim is to be the leading Australian contemporary law firm.  We have gone from strength to strength over the years and have grown to be a firm of 70 partners and nearly 500 staff across our national offices in Melbourne, Sydney, and Brisbane.
We advise public and private companies, and all levels of government. With some of the sharpest legal minds in the country, our lawyers remain in demand with both Australian and international clients.  We have a strong focus in financial services and insurance, government, retail and supply chain, real estate, education, and family and relationship law.  We take great pride in our market leading pro bono practice and the importance of our social conscience.
We work collaboratively with our clients and take the time to find out what is important to them — we are proud to consistently win awards for our exceptional and innovative client service.
Our fundraising platform partners
Guide Dogs Victoria happily partners with several fundraising platforms.
Using fundraising platforms helps us to streamline processes and reduces our administration costs. From time to time, you may see a Guide Dogs Victoria campaign hosted by any of the following fundraising platforms: