What is adult mobility training?
Learn practical travel skills to get where you're going with confidence.
Regardless of your age or level of vision, it's important to be able to move safely and independently through the world. Whether you've experienced long-term low vision, a recent change in vision, or you're gradually losing sight, Adult Mobility training offers everyday skills to keep you moving with confidence. Adult Mobility training is run by qualified Orientation and Mobility specialists who are able to tailor a program to meet your needs.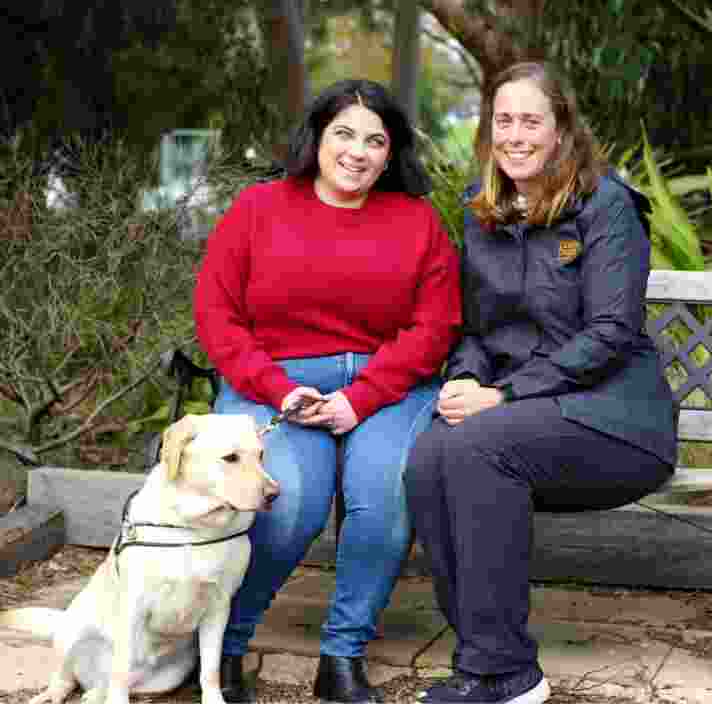 Could you benefit from Orientation & Mobility training?
Adult Mobility training can support you to:
Get around your home and community safely
Navigate through both familiar and new environments
Catch public transport
Use wayfinding aids to increase your independence
Keep doing the things you love, like hobbies or activities
Increase your confidence and independence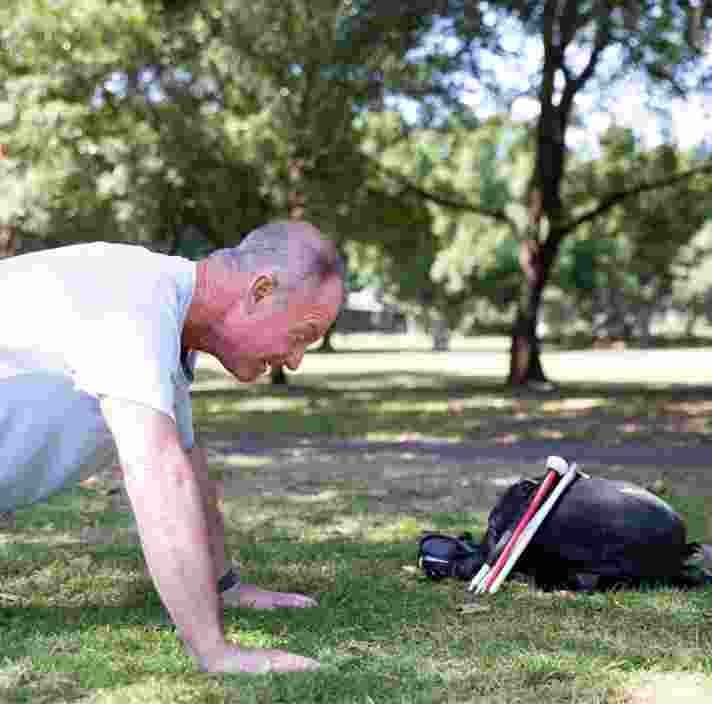 What does the training cover?
Every training program is flexible and uniquely tailored to you.
Whatever your ultimate destination—whether it's learning the skills to travel to and from work, pick the kids up from school, or stroll out to check the mail every morning—qualified Orientation and Mobility specialists, ensure you can move the way you want, when you want, to get where you want.
Simply put, you'll learn to map out and understand where you're coming from, where you plan to go, and the safest, easiest way to get there.
Each practical technique is carefully selected to keep you going towards your personal goals, both long-term and short-term.
How your training evolves over time
Support for every step of your training journey.
Adult Mobility training is valuable for anyone at any age, at any stage of life. Regardless of your age or experience, we can be there to support you in every step of your training journey.
We're always available if you need to refresh your skills or learn new mobility techniques to find your way with confidence; if your goals change over time, we adapt our support to suit your needs.
Training can range from one session to several weeks of intensive classes. Depending on the specific skills you hope to learn, you might receive training at home, get out and about to apply your training in the community, learn alongside family members or co-workers, or join us for programs at local Guide Dogs centres.
What are Orientation & Mobility skills?
Our training programs incorporate all aspects of daily travel.
We use the Orientation and Mobility Framework to determine the skills and concepts explored in training.
The framework covers a range of practical skills to help with your travel. It is designed to be flexible and to accommodate your specific needs. Orientation & Mobility skills can include:
Self & sense: Understanding the body, the body's position in space and the environment around it.
Spatial concepts: Developing orientation awareness and a variety of techniques to remain comfortably oriented while travelling.
Thinking and problem solving: Identifying a problem, learning to understand options, actions and possible consequences, planning and implementing a strategy, and evaluating the results.
Communication: Understanding of a variety of communication methods, and where, how, and when they can be used for best results.
Safety: Developing awareness of potential dangers and hazards, and taking appropriate steps to increase safety.
Exploration: Understanding how to access information from the space around you, and learning specific movements to help in comprehending environments quickly.
Environment & access: Developing knowledge of a variety of common environments, their structural features and strategies for safe navigation in different areas.
Route travel: Learning how to travel safely from one destination to another, with a focus on mapping concepts and orientation skills.
Traffic: Understanding road concepts, road configurations, road rules and traffic flow, and safe crossing procedures and decision making skills.
Mapping: Understanding of key mapping concepts and use of a variety of maps and mapping tools, such as digital, audio, mental and tactile maps, to aid orientation and independent travel.
Mobility aids: Understanding how and when to safely use a variety of physical mobility aids, and when and where each variety of aid is most appropriate.
Deverell, L., Taylor, S., & Prentice, J. (2009). Orientation and mobility methods: Techniques for independent travel. Melbourne, Australia: Guide Dogs Victoria.
Learn about your technology training options
Want to know more about how technology can assist your mobility needs?
We can help you to use technology you already own in different and more effective ways — like your smartphone for example — or we can assess you for specific mobility technology like GPS devices.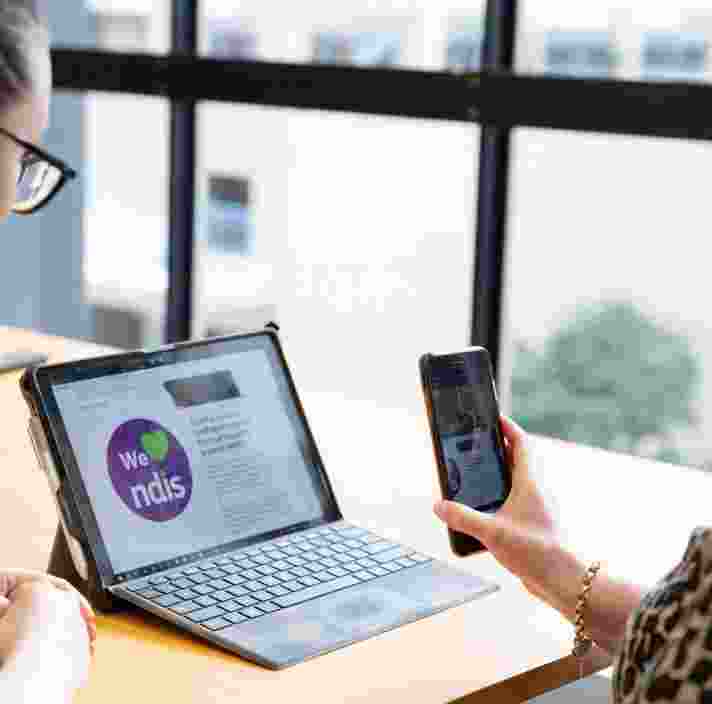 Service charges
Our Adult's Mobility Services are available to people of all ages, regardless of whether you have access to government funding.
If your program is funded by a Government Agency such as the Transport Accident Commission, Department of Veteran's Affairs, the National Disability Insurance Scheme, or is subject to a court case, we will seek costs for the services directly from these departments with your permission.
We appreciate information regarding claim numbers or pension numbers in these cases.
As a philanthropic organisation, we will always support people to access services regardless of your financial position.
Contact our Mobility Service for more information: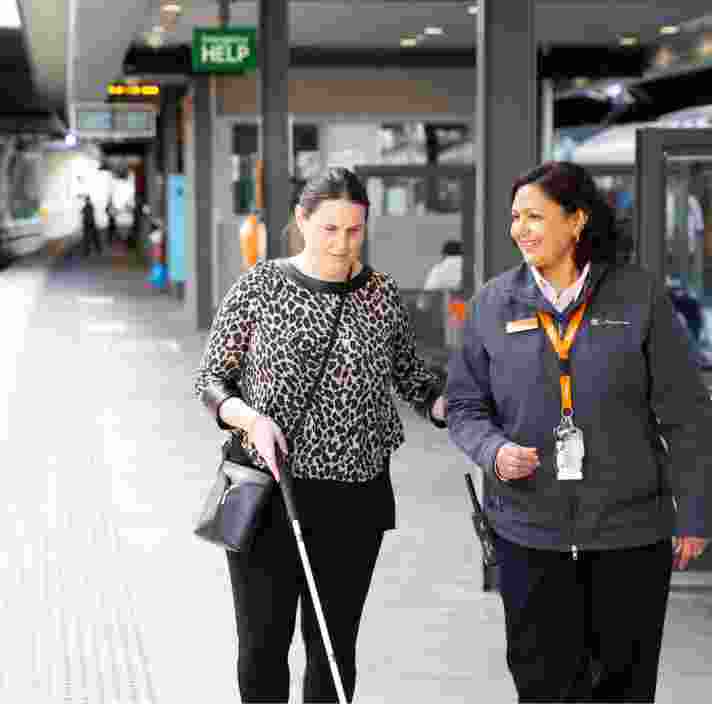 Could you access this support via NDIS?
Many people include this support as part of their NDIS plan.
Have you checked your eligibility to access this support through the National Disability Insurance Scheme (NDIS)?
If you're eligible for the NDIS, we can cut through the jargon, assist with your plan—or pre-planning—and get you on the path towards your personal goals. You can request free Support Coordination or find out more about your potential eligibility to access this service through the NDIS now.
If you're older than 65, funded supports are accessed through the aged care system. You can register with My Aged Care by contacting their help line on 1800 200 422.
Careers in Orientation and Mobility
Are you interested in applying to become an O&M specialist?
Apply now to join the Guide Dogs team.