Speakers for Community Events and School Incursions
Are you interested in booking a speaker for your event or school? Our speaking program is run by a network of independently managed inspirational speakers, each with a heart-warming story about their life experience in relation to independence and mobility. Each of these speakers will be blind or have low vision and be accompanied by a Guide Dog.
We encourage you to get in touch with one of these speakers to discuss your event by downloading the register of community speakers here.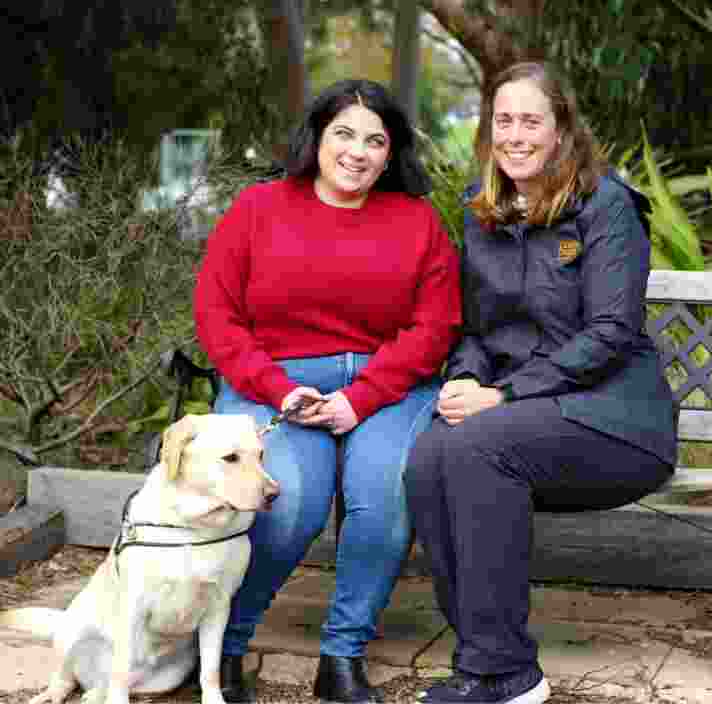 Community Education for Workplaces
Community Education Programs
A Dialogue in the Dark Workshop is an immersive experience perfect for team-building events or professional development programs.
Guide Dogs were proud to bring the internationally acclaimed exhibition, Dialogue in the Dark, to Australia. After two successful years and over 21,000 visitors, the Dialogue in the Dark Melbourne season came to an end in July 2019. A Social Impact Report highlighted how the Melbourne Dialogue in the Dark experience positively affected public perceptions and attitudes toward people with low vision and blindness.
We have taken the learnings from this social enterprise and are excited to partner with training organisation, The Culture Group, to extend our impact in the community through a key influencer group – employers.
The Culture Group is carrying on the success of Dialogue in the Dark through specialised workshops. The half-day workshop is comprised of individual and team activities conducted in darkness and delivered by trainers with low vision or blindness. Workshops include a wide range of exercises focused on developing key business and life skills, including communication, leadership, and teamwork. Participants will leave with a greater level of self-awareness and understanding of diversity and inclusion, empowering them to be champions for change.
To learn more or book a Dialogue in the Dark Workshop you can get in touch with The Culture Group here.