How to interact with a Guide Dog
How to interact with a Guide Dog.
It takes a lot of training and concentration for a person with low vision to work safely with a Guide Dog.
Please follow these tips to ensure that Guide Dogs and users can successfully navigate the community together.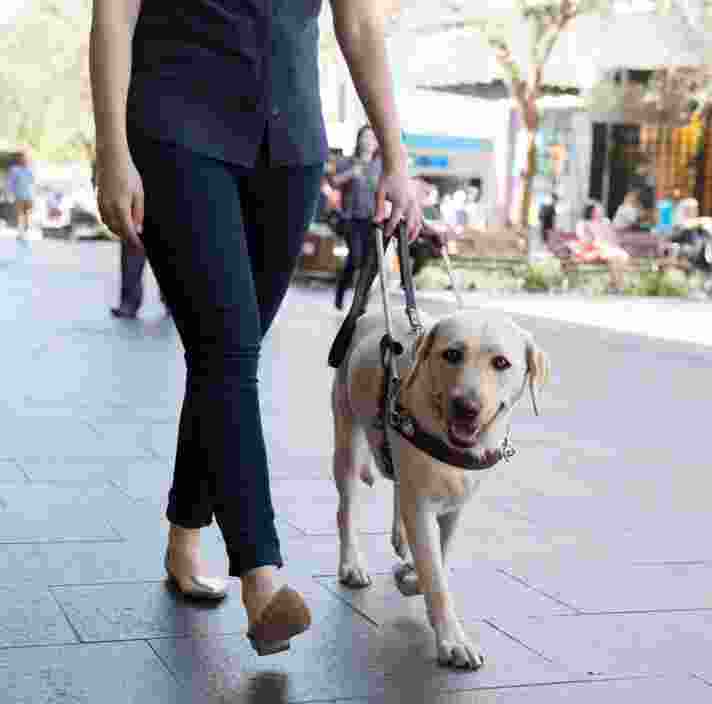 Interaction tips:
The Guide Dog must not be the centre of attention. Please don't pat feed or otherwise distract the dog when it is working. A well-intentioned pat can undo months of intensive training.
Please don't grab onto the person or the dogs' harness. Always ask if they need assistance.
When you provide guiding assistance, please walk on the person's opposite side to the Guide Dog.
Please ensure your pet dog is on a leash or under control when near a Guide Dog. When approaching, it may be helpful to let the person know that you have a dog.
If you see a loose Guide Dog, please contact the local council.
According to government legislation, you must allow a Guide Dog to go anywhere that the person working with it can go.
Guide Dogs are fully vaccinated and health-checked regularly.
How should a Guide Dog behave around me?
The Guide Dog should be well behaved at all times, and settled when not working.
When working, the Guide Dog should avoid temptations such as begging for food,drooling and chewing objects around them.
The Guide Dog should respond to the handler's commands to maintain its concentration.
The Guide Dog should be clean, groomed and free of offensive odours.
People who work with Guide Dogs have been trained in the most effective ways to control their dog's behaviour. Please only provide assistance if requested.
How to support the Guide Dog training program
It takes a lot of complex training and skills development to prepare a Guide Dog for a successful partnership.
Your contributions are essential.
By donating to the Guide Dog training program, you give puppies the best possible start on their journey to become Guide Dogs.
We don't receive any government funding for our Guide Dog training program, so your generous and regular support is essential in helping our puppies change lives. Every contribution counts.