Students, teachers and visitors climbing the steps to Carey Baptist Grammar School's Student Development department are these days being greeted in a not-so-usual fashion. 
Carey Baptist Grammar's Student Development department couldn't be happier with the addition to their team. Tanya Taylor, Assistant to Head of Student Development, sent us the following information.
"Luka-Barkley, known usually just as Barkley, is a 20-month-old white Labrador whose sole job is to give unconditional affection to students visiting our department. Barkley came to us from Guide Dogs Victoria after choosing a different path and opting for a career in therapy. The new Therapy Dog Program at Guide Dogs Victoria has not only provided us with the most beautiful, loving and gentle dog, but they have also provided our team with training and resources to help us along our journey with him.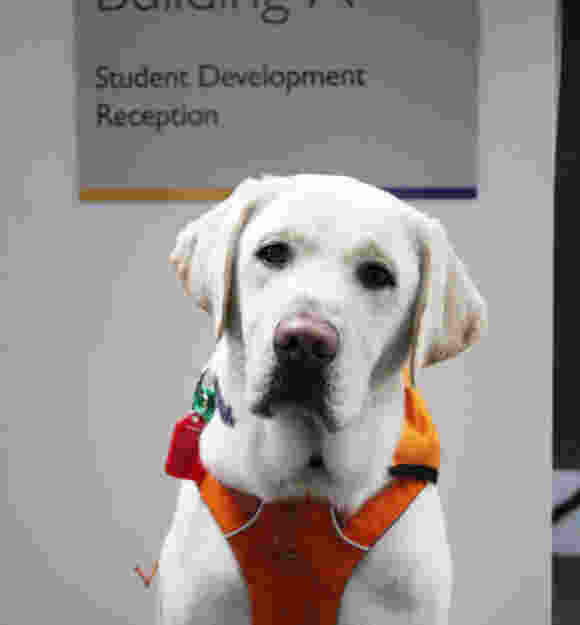 "One of the aims of having a Therapy Dog at Student Development is to help students overcome any apprehension they may have in reaching out for Student Development support. Early indications suggest that Barkley is having the desired effect as many staff and students now come up just to say 'hello' to him. Barkley is blissfully unaware of the broader impact he's having in helping to destigmatise visits to Student Development. As one student recently said, "Barkley is the best thing that has happened."
As students and staff arrive, Barkley's presence provides a wonderful distraction from other pressures and promotes healthy connections between people around him. Students often chat about their own pets, or family members' pets and have questions about Barkley. If a student arrives distressed, Barkley will sit with the student and gladly accept the pats and tears with calm, non-judgmental 'dogginess'. We have learnt that Barkley loves to sit with people, touching them in some small way, just with a part of his body on someone's foot. 
We'd always hoped that a Therapy Dog would add to the student experience while attending Student Development. Barkley's presence and loving engagement has proven as much. 
We are very grateful we have been given the opportunity to have Barkley on our team and we are indebted to Guide Dogs Victoria for making it possible for the Carey Student Development program to have such a highly trained dog on its team."