Senior years:
Colleen
Colleen is 64 years old – she's a mother, grandmother, crafter and baker. As she leads an active and independent lifestyle, she wants to continue enjoying the things she loves the most.  
Colleen is an adventurer and hasn't let her declining sight hold her back. Colleen is one of GDV's first clients on the National Disability Insurance Scheme (NDIS), and she had found the experience to be very positive.
"NDIS is based on what I want to do, rather than just fixing a problem." she says.
Colleen has rod/cone dystrophy in her retina, and her eye sight has been getting progressively worse as the years go by. Recently, it reached a point where she felt she needed a Guide Dog to feel safe. Colleen has had her Guide Dog, Freeman, for two years now.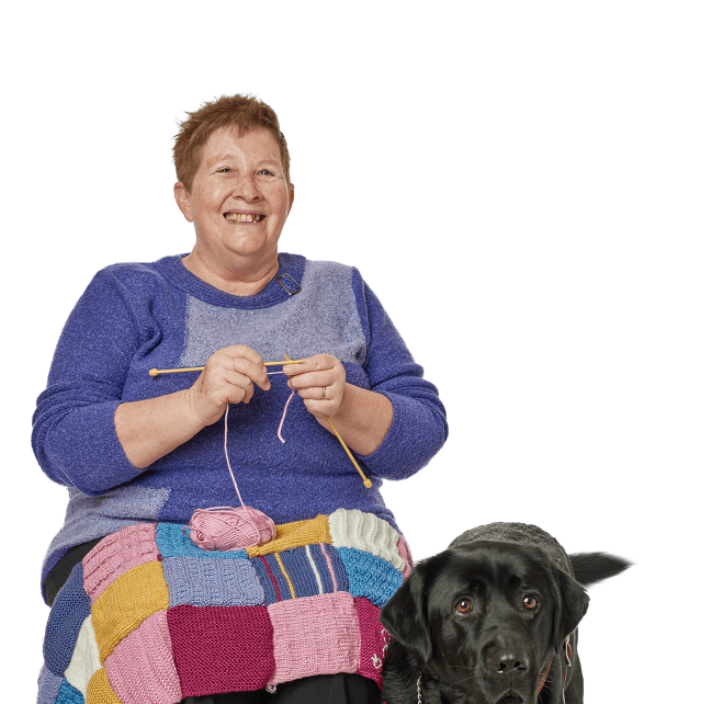 She likes to knit and cook, but her speech software was limited and could no longer support her in the ways she needed. An Occupational Therapist from GDV assessed her for a Scanning and Reading Appliance (SARAs), to be built into her NDIS plan.
 "It has really changed my life, as I can now access print material independently, whenever I want." Colleen says. 
Colleen is now attending a fortnightly craft group and is continuing to be active and busy in the community with the support of GDV, including regular trips to Melbourne and a recent trip to Nepal with friends!