Bequest Story:
Kathryn
Leaving a gift in your Will to Guide Dogs Victoria means that a person who is blind or has low vision can 'live life again'.
In 2014, Kathryn and Guide Dog Sammie received a certificate from Guide Dogs Victoria: it was a graduation certificate.
Before Guide Dogs Victoria's graduation day, life wasn't so happy for 22-year old Kathryn who dreamt of independence, driving a car and getting on with her life. Bilateral Coloboma had interfered with her leading an independent life. Kathryn also suffers from an eye condition called 'Nystagmus', which causes involuntary motions of the eyes. When she experiences extreme emotions or stress her nystagmus worsens to such a degree that she cannot see at all.
Kathryn attended Arnold Cook House, where she learnt to live and work with the Guide Dog we have selected for her – Sammie. Kathryn recalls: "Sammie and I had to learn about each other. We had to work together until she trusted me and I trusted her. When I finally took her home, Sammie instantly became a family favourite."
Sammie has opened doors for Kathryn: "Guide Dogs Victoria has not only given me independence and safety, but also my best friend in the form of Sammie. Before having her, I often felt anxious doing things by myself however, with her by my side, I feel like I can accomplish anything. One of Sammie's commands is to 'find the door', but i never realised she was going to open them too."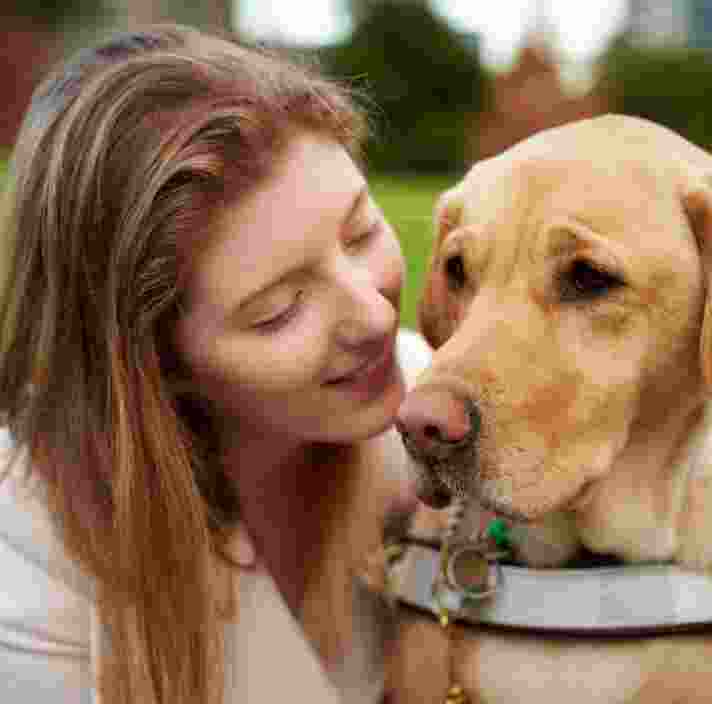 Transforming a puppy into a fully-fledged Guide Dog doesn't come cheap. In fact, it takes over $50,000 and more than two years to
breed, raise, and train a Guide Dog to support a person with low vision or blindness. The good news is that thanks to generous Australians just like you we can continue providing this much-needed service.
Gifts in Wills left to Guide Dogs Victoria provide more than one-third of our fundraising income. This makes it possible for us to deliver around 20,000 hours of Client Services every year, hold nearly 9,000 training sessions with our splendid pups, and match almost 100 Guide Dogs with their new Handlers; for whom they will become a loyal companion and provide invaluable support for many years to come.
Click here to find out more about leaving a gift in your Will.
Contact us confidentially
Gifts in Wills