Bequest Story:
Kathryn
Leaving a gift in your Will to Guide Dogs Victoria means that a person who is blind or has low vision can 'live life again'.
In 2014, Kathryn and Guide Dog Sammie received a certificate from Guide Dogs Victoria: it was a graduation certificate.
Before Guide Dogs Victoria's graduation day, life wasn't so happy for 22-year old Kathryn who dreamt of independence, driving a car and getting on with her life. Bilateral Coloboma had interfered with her leading an independent life. Kathryn also suffers from an eye condition called 'Nystagmus', which causes involuntary motions of the eyes. When she experiences extreme emotions or stress her nystagmus worsens to such a degree that she cannot see at all.
Kathryn attended Arnold Cook House, where she learnt to live and work with the Guide Dog we have selected for her – Sammie. Kathryn recalls: "Sammie and I had to learn about each other. We had to work together until she trusted me and I trusted her. When I finally took her home, Sammie instantly became a family favourite."
Sammie has opened doors for Kathryn: "Guide Dogs Victoria has not only given me independence and safety, but also my best friend in the form of Sammie. Before having her, I often felt anxious doing things by myself however, with her by my side, I feel like I can accomplish anything. One of Sammie's commands is to 'find the door', but i never realised she was going to open them too."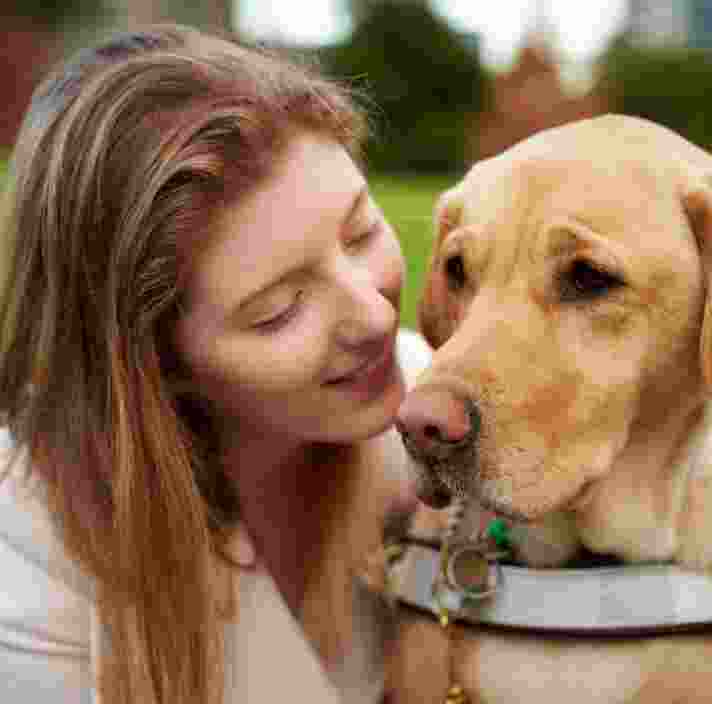 Did you know that the number of Australians over 40 who are blind is expected to increase to more than 800,000 by 2020? That's barely four years away! And did you know that it takes up to two long years to breed, raise and train a Guide Dog for a Victorian who is blind? Before the intensive training come many months of puppy raising.
Dedicated volunteer puppy raisers are carefully selected to raise a dog until they reach 12 months of age. Our puppy raisers are vital to the success of a Guide Dog. Puppy raisers help socialise the puppy, take them to places, and teach them to travel in cars and on public transport. They walk them, feed them and groom them – and this is over and above loving them and playing with them – they are puppies after all!
Bequests are invaluable both for us and the support services we provide for Victorians with low vision.
Click here to find out more about leaving a gift in your Will.