About our nursery: CuteHQ
Every Guide Dog puppy's very first home.
At Guide Dogs Victoria, we are able to offer an internationally renowned standard of Guide Dogs thanks to our world class puppy treatment.
Edward's Nursery, also known as CuteHQ, is where every puppy meets the world. The facility plays a key role in the development, raising and training of future Guide Dogs. We are proud to be recognised as one of the five leading Guide Dog providers in the world.
Our puppy nursing program has been refined since 1965. Today, every pup is born with the inherent characteristics they need for the extraordinary demands of Guide Dog work. Our parenting dogs are of such a high standard that only the best of the best are accepted.
We also source specially selected parent dogs from a special network of international Guide Dog schools. These worldwide partnerships ensure we maintain our world class lineage of puppies and potential Guide Dogs.
We rely on community generosity and your valuable contributions to maintain and uphold the incredible quality of our amazing Guide Dogs. We receive less than 10% of our funding from the government, so every donation is essential. You can play a role in helping puppies on their path towards graduating as highly skilled Guide Dogs.
What breeds of dogs are used?
Guide Dogs are most commonly Labrador Retrievers.
There are a wide variety of types within the Labrador breed – from tall, powerfully built males and solid females, to small, lighter-framed dogs.
Labradors are generally highly trainable. They can also readily transfer the affection and loyalty from one person to another without complication. Additionally, Labradors are renowned for the positive and beloved reputation in the community.
We also use Labrador Retriever/Golden Retriever crosses, and purebred Golden Retrievers.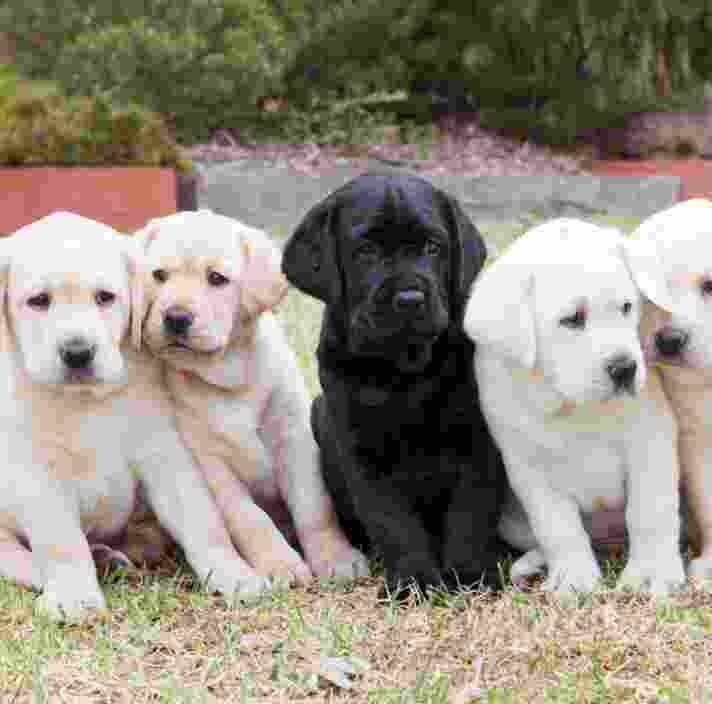 Learn about the first days of a puppy's life
Around 135 puppies are nursed each year at our centre in Kew.
Puppies born in Edward's Nursery remain with their mothers until they are weaned and ready for placement with a family in the community. This typically occurs at around six to eight weeks.
During their first eight weeks, our puppies are socialised on a daily basis. Every puppy is carefully nurtured from birth so they can fulfil their potential as exceptional mobility aids and true companions for people with low vision or blindness.
For more information on supporting or raising a puppy, see how you can get involved.