Our history: the early years
In 1950, Dr. Arnold Cook arrived in Australia with the country's first Guide Dog.
A young West Australian, Arnold lost his sight at the age of 18 through a rare disease.
Arnold became familiar with Guide Dogs after travelling to England to study at the London School of Economics. He trained at Britain's Guide Dog Association and was paired with a black Labrador named Dreana.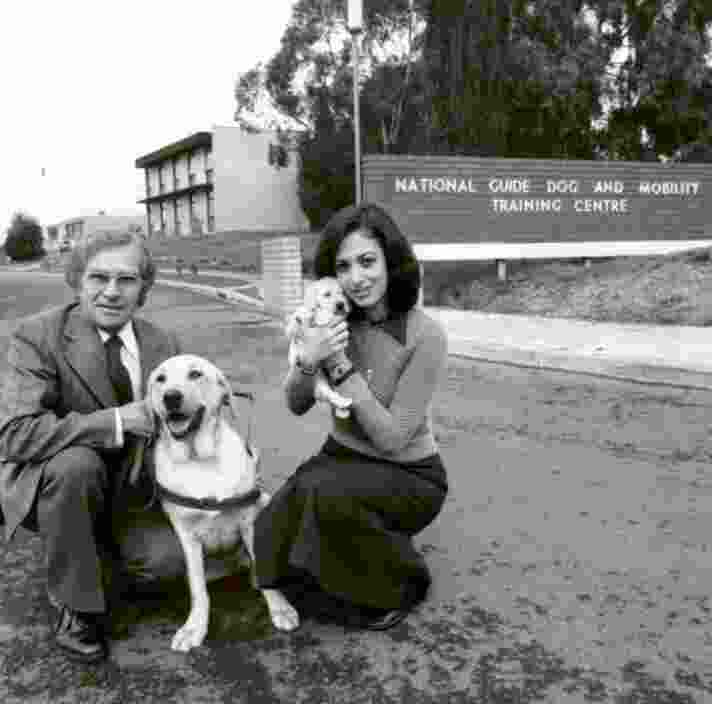 Moving forward in Victoria.
In 1962, the Guide Dog Association moved Victorian headquarters to our current location in Kew. The first specially-designed Guide Dog Centre in the world was built on land granted to the National Association by the Victorian Government.
In 1967 we launched the Puppy Raising program, enabling young pups to be socialised in a family environment for 12 months before beginning Guide Dog training.
On July 1st 1998, Guide Dogs Victoria assumed the business operations of the National Association, known as the Royal Guide Dog Association of Australia. This includes Guide Dog breeding, Puppy Raising and training programs, and other mobility services for people with low vision. State associations continue to service people with low vision in their own state.
Guide Dogs Victoria is a proud member of the International Guide Dog Federation.
Early beginnings
Arnold and Dreana's return to Australia.
Arnold and Dreana created enormous interest upon their return to Australia. Unsurprisingly, many other West Australians with low vision were eager to partner with Guide Dogs and a year later the first Guide Dog Association was formed in Perth.
By 1957 there were Guide Dog Associations in each state.